In a recent workshop I facilitated, we each came up with some words or phrases encapsulating our next steps toward manifesting yoga in our lives. Here's mine: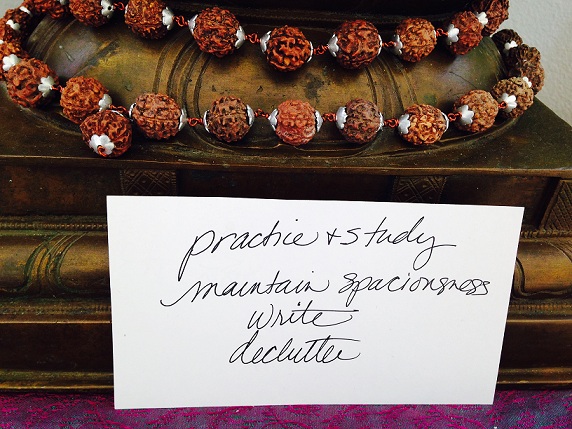 I placed this on my altar, and I've held it in my awareness each morning and afternoon as I meditate. And I came to realize that it is all encapsulated in the word SPACIOUSNESS.
Last year I went with the word CONNECT, and I have to admit that I failed to connect in the ways I wanted because I allowed myself to get too busy. I don't regret the work I got busy with, but it took its toll on me, and my failure has taught me much, and led me to this place of craving for space, and a determination to create it in my life.
First and perhaps most relevant to my previous failure, I want to maintain a spaciousness with my time. A huge pattern of mine is overcommitting – in fact it is a tactic I use to be productive. And I will still use it , but much more judiciously. For I must create space in my schedule in order to do the other things on my list: practice, study and write. And as well, to fulfill my desire to connect that I articulated last year.
Other ways I intend to create spaciousness in my schedule:
– being present and enjoying doing things, like writing as I am now
– limiting my time on social media
– limiting when I check and respond to emails
– tracking my time and noticing places I unconsciously waste time.
I welcome your ideas about this in the comments section!
I'd like to create more spaciousness in my overall attitude. I want to notice my reactivity and allow some time to pause before responding. I want to allow a larger more spacious perspective and awareness in general, especially in relationship, on social media, and when people differ from me. And I'd like to cultivate a more spacious attitude regarding my conception of time.
And finally, but perhaps most fundamental, I need to create physical space. Ever since my mom passed, over 7 years ago, I've been struggling with the physical stuff of my life. When I cleaned out her house I was aghast at the amount of stuff she had. Then I brought a bunch of it home! It has been a very slow yet steady process of letting go. And there is so much more to do. I have become increasingly aware of my sensitivity to clutter, and will be exploring how it shows up in my life, and its ramifications.
I would love to hear how you create more space in your life. Please leave a comment!