Introduction to Ganesh
Ganesh, the elephant-headed God, is one of the most endearing of the Indian deities. He helps us move through the thresholds and obstacles of our life. Studying his mythology and iconography can be an enjoyable way to ease into yoga philosophy, as well as apply the teachings to live your yoga.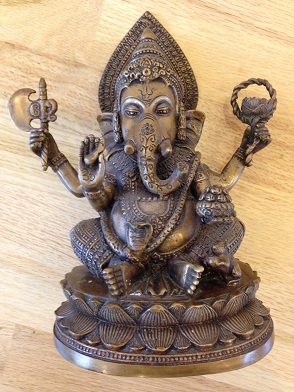 BENEFITS OF THE COURSE
· Enjoy some of the classic stories and teachings about Ganesh.
· Explore interpretations of these teachings.
· Learn how to integrate these teachings into your life.
HOW IT WORKS
You will receive a zip file with three mp3 recordings, and a written Study Guide with sections corresponding to each recording. You can simply listen to the recordings, or in addition you can complete the associated section in the study guide intended to deepen your access to the teachings and the applicability of the teachings to your life.
This format allows you to work through the material at your own pace and to listen to each recording as many times as you'd like.
THE RECORDINGS include the following topics:
· Traditional Ganesh chants
· Several Ganesh myths
· A consideration of thresholds and obstacles
· Interpretations of the stories
· Explanation of his iconography: his form and what he holds
ABOUT THE STUDY GUIDE
The Study Guide is organized around the teachings covered in the recordings. It includes:
· Vocabulary words from the recordings
· Chants from the recordings
· Questions for contemplation and journaling to deepen your understanding of the teachings, as well as apply them to your life
Ready to go? Sign up here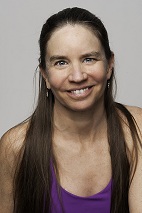 About Your Teacher
I'm Cindy Lusk, the founder of Live Your Yoga. My teaching reflects almost 30 years of my practice and study of yoga asana, philosophy, and meditation. My teaching of yoga philosophy is particularly inspired by my many years of dedicated studies with leading tantric scholars Paul Muller-Ortega and Douglas Brooks.
Students in my courses often say that they find my non-academic and practical approach accessible, authentic and life-changing.
"I have taken Cindy Lusk's yoga philosophy classes for years and I keep taking them.  From Patanjali's Yoga Sutras and The Bhagavad Gita to The Shiva Sutras; Cindy holds the history of yoga philosophy with sincere reverence, super smarts and a humble attitude.  She helped deliver these studies to me in way that I could easily understand and apply them to the context of my asana practice and the greater context of my life."
 – Erin J.
 "I feel fortunate for having had the opportunity to study the Yoga Sutras with Cindy.  As a yoga teacher I have read this sacred text a number of times.  However, with Cindy's insightful and knowledgeable guidance I was able to reach a new level of understanding.  She has helped me shift my view of the sutras from seemingly disjointed bits of wisdom to an artful masterpiece laying out the amazing practice of yoga.  This new understanding and connection to the sutras has transformed my practice and my life."
 – Jen B.
Join us in studying these great teachings.