YOGA PHILOSOPHY
with Cindy Lusk
 Transform Your Life through a Deeper Understanding

 and Application of the Yogic Teachings
Are you interested in the roots of yoga but intimidated by the technical and archaic language of the ancients texts?
Like you, I found myself floundering and frustrated, and I vowed that someday I would make accessing the teachings easier for interested and sincere students.
That time is now. After 20 years of studying yoga philosophy, I am creating philosophy courses that are accessible and applicable to YOU, the modern day yoga practitioner. And you can explore them from the comfort of your own home in bite-sized pieces, at your own speed.
These self-paced courses are open to anyone who has the desire and a willingness to grapple with the material. The yoga philosophy studies are a practice. And like any practice, your understanding will shift each time you study a given teaching. Every teaching covered in the lessons has multiple layers that allow you to approach the material from where you are.
Through each course course, you will:
Gain a rich understanding of the deeper message and intent of these yogic teachings.

Feel a deeper connection with who you are from that yogic perspective.

Learn how to integrate this understanding into your life.

Experience more ease and effectiveness that comes from integrating this understanding into your life.
What You Will Receive
For each course, you will receive a zip file that contains:
a number of mp3 audio recordings you can listen to whenever and wherever you want, which generally vary from 10-20 minutes each
A written study guide intended to make the teachings applicable to your life. This may include vocabulary words, contemplation and journaling questions, suggested readings, exercises and/or practices.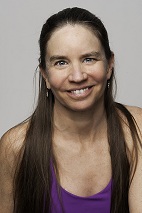 About Your Teacher
I'm Cindy Lusk, the founder of Live Your Yoga. My teaching reflects almost 30 years of my practice and study of yoga asana, philosophy, and meditation. My teaching of yoga philosophy is particularly inspired by my many years of dedicated studies with leading tantric scholars Paul Muller-Ortega and Douglas Brooks.
Students in my courses often say that they find my non-academic and practical approach accessible, authentic and life-changing.
"I feel fortunate for having had the opportunity to study the Yoga Sutras with Cindy.  As a yoga teacher I have read this sacred text a number of times.  However, with Cindy's insightful and knowledgeable guidance I was able to reach a new level of understanding.  She has helped me shift my view of the sutras from seemingly disjointed bits of wisdom to an artful masterpiece laying out the amazing practice of yoga.  This new understanding and connection to the sutras has transformed my practice and my life."
 – Jen B.
"Cindy's yoga philosophy classes have opened up the world of yoga for me. I knew there was so much more to yoga than asana, but studying the yogic texts with her made the larger teachings more real and accessible to me in my everyday life. Her teaching is informed and thorough, and her careful study and deep knowledge of the text are evident. In a world where so many teachers seem to develop their own angle on yoga, I consider myself blessed to have found a teacher who respects the strength of the teachings on their own merits even as she honors each student's journey through that text."  
– Meredith R.
AVAILABLE COURSES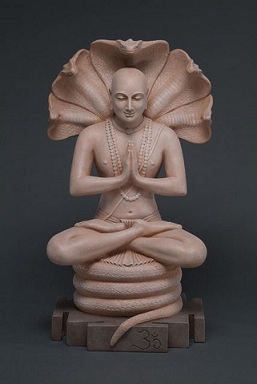 Yoga Begins Now: Key Teachings from Patanjali's Yoga Sutra
Patanjali's Yoga Sutra is the definitive text of the Classical Yoga system and important study not only for any serious student of yoga, but for anyone on a spiritual path, as it explains how spiritual transformation works on a deep level.  This course will be a great place for you to start or refresh your contemplative studies.
The text itself can seem daunting, and is not meant to be studied without a teacher.  In this course, I will help you unravel many of the key teachings from the text, and we will explore how to apply them to your everyday life.
You will receive a study guide and 24 recordings which average 10-20 minutes each.
For more info go here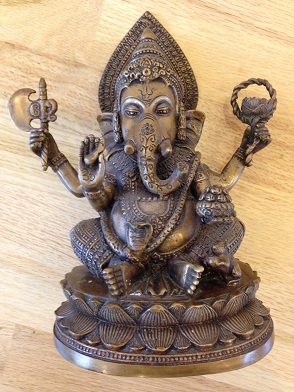 Introduction to Ganesha
Ganesha is the elephant-headed God who stands at the threshold and is known as the Lord of Obstacles. And as such he has a lot to teach us about how to negotiate the challenging aspects of our lives. In this course, you will hear some of the popular stories of Ganesh, as well as learn about his iconography.
You will receive three recordings and a study study guide. To begin your studies of Ganesh click here