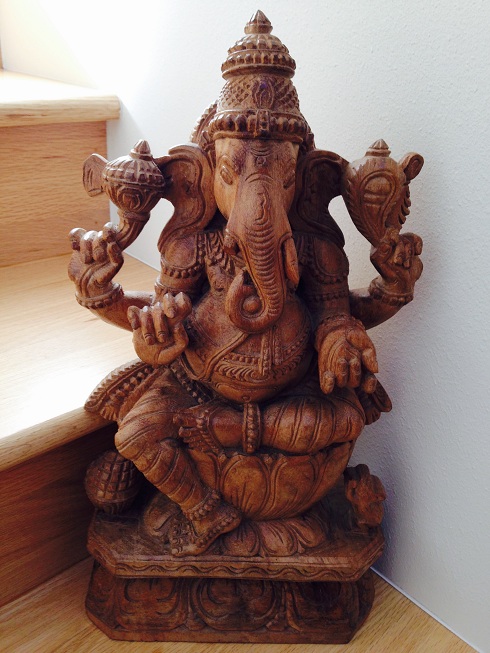 A beautiful wooden Ganesh came into my possession over the holidays, and paired with the fact that he is the Lord of Thresholds and Beginnings, he's been on my mind as we enter this New Year.
Ganapati has many names, among them Vigneshvara. Vigna means obstacle, and Ishvara is Lord, and many praise him as the Remover of Obstacles. But more literally he is the Lord OF Obstacles. I've been thinking about this a bit as I review my last year and consider my intentions for the coming year. I've been contemplating how I work with obstacles, and how Vigneshvara can support me.
When I was living in India for a short time, one day I noticed the school children crowding around to pay homage to Ganesh at one of his shrines. I was curious as to what was going on and was informed that it was exam time, and the children were seeking support on their exams. This is an example of how Ganesh is often approached: as a good luck charm.
On New Year's day I found myself chanting the Ganapati Atharvashirsha Upanishad, in honor of the new Year and all I would face this coming year. Wouldn't it be nice if Ganapati just cleared the path for me like some kind of good luck charm, removing any obstacles that might block my desires from coming into fruition? We all hope for smooth sailing as we negotiate our lives, but when I invoke Ganapati, I understand it is not simply a transactional prayer, but has more layers of profound meaning.
When I invoke Vigneshvara, I am calling upon a particular quality, or set of qualities, that he exemplifies. As the Lord of Obstacles, Ganapati is that energy that supports me in negotiating the inevitable challenges that arise in my life.
In fact, could it be that the Lord of Obstacles is that which creates or places the very obstacles that need to be experienced? Challenges can be some of the best things to happen in our life, though in the moment we may not feel that way. In this last year, I experienced unexpected challenges in some of my relationships that caused me to look deep within myself, which served to shift some of my behavioral patterns, and look carefully at my responsibility in creating challenges. It also instigated some changes in how I communicate and how I commit my time.
You likely have heard the expression "when one door closes, another opens." And what is a door, but an obstacle, closing off one direction, so another can be taken? Sometimes Ganesh shows up as that extreme occurrence when we have no choice but to radically change direction. And he is that energy that helps us negotiate obstacles in the most benevolent way.
For as the names Ganapati and Ganesh suggest, he is the Lord of the Ganas, of all the categories or terms of existence. When our desires are misaligned, when they are not serving the highest, Ganapati arranges the terms of our existence such that a more auspicious arrangement in encouraged.
And ultimately, Ganesh is that quality of the divine we invoke to encourage us to seek that alignment such that our desires reflect divine will. For when our actions emerge from the highest desire to align, Ganesh will then be the remover of obstacles.
CONTEMPALTIONS
Consider the last period of your life and the obstacles you have encountered. What have you learned from them?
What strategies do you use to more gracefully negotiate the inevitable obstacles that arise in your life?
How do you align with your highest desires?